If you have two or more Shopify stores, then it would be crucial that your visitors reach the right store and also on your terms of feasibility. Our app Cozy Country Redirect comes with three ways in which you can redirect visitors:
Auto-Redirect
A Popup to confirm redirection
A Notification Bar on the top of the page
Auto-Redirect
This is the most popular and commonly used method out of the available three. Auto-Redirect, as the name suggests, will redirect customers without any sort of notification or confirmation. It would silently take your visitor to the right store based on their geo-location. This is recommended when you have no shipping provision available for the visitor apart from redirecting them to the dedicated store for their country. Combine this with the Speed Up Instructions within the app and your redirection will be so blazingly fast that your visitors won't even notice they were actually supposed to land on a different store.
Pop-Up to confirm redirection
This is also a very popular method of redirection that our app users prefer but the use case is slightly different when compared with users using Auto-Redirect. Like you might have guessed by the title in this method you can show a Pop-Up to your visitors and leave the choice of getting redirected to them. If they choose "Yes" they will be redirected to their dedicated store and if they choose "No" they can continue browsing your store normally. This Pop-Up comes with its own background overlay so it will completely block access to your store unless the visitor makes a choice. If your shipping to visitor's country is not very feasible and products are not exclusive, this redirection method is ideal for you.
Moreover the Pop-Up is completely customizable. From changing colours, sizes, adding images and borders to using Custom CSS for advanced styling our Template Editor will do it all. Your creativity and imagination will help you design an amazing popup which can help you show off your brand, match your theme and attract customers at the same time.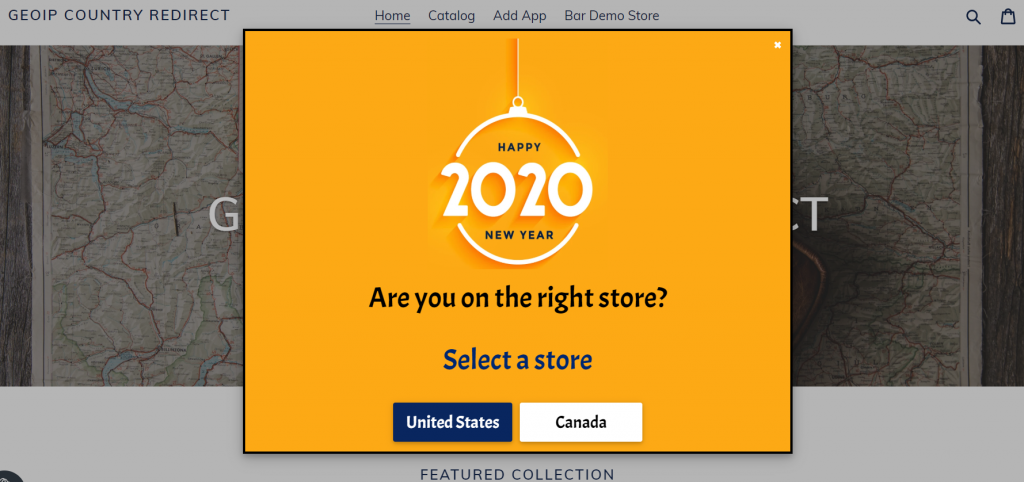 Notification Bar to Confirm Redirection
If you can manage shipping to the visitor's country within your budget or if you have an international shipping solution along with one or even two dedicated stores for different countries having exclusive products this is the ideal method for you. You can let your visitor browse your store in peace while you show a non-obstructive notification bar at the top of your store page with a choice to leave and redirect to their dedicated store. This is also completely customizable so you can go ahead and experiment with the design until it suits your store or your needs.

So these were the possible redirection methods that our app Cozy Country Redirect provides. Choose any of them depending on your requirement and redirect visitors smoothly.
When in doubt or in need of help feel free to contact us at support@addons.business and we will help you out gladly.