Google Analytics is a very popular and widely used web analytics tool for analyzing visitors on websites. Although, web analytics is too simple a term to explain the effectiveness of what Google offers you through this tool. You can keep a track of all the visitors coming to your website with even intricate details such as their original source, referrals and campaigns.
Shopify provides a very seamless integration of Google Analytics into your Shopify Store. Once Google Analytics is set up correctly on your Shopify Store you can analyze your customers effectively in your Google Analytics Dashboard directly.
Now Google Analytics works splendidly after setup on your Shopify Store. You can track visitors that come to your store via various sources. But if you are using multiple Shopify Stores which serve different regions, there is a high chance that you are probably using a Redirection App to redirect your visitors to the correct store based on their location. With redirection, you would definitely want to keep a statistic of the visitors who are staying on a region-specific store and also the visitors who are getting redirected to their dedicated regional store based on their location.
If you are using our Cozy Country Redirect app for achieving the redirection setup, I would like to walk you through one of the many amazing features from our app. This one specifically is targetted towards tracking customers who are set to get redirected.
There are two available tracking setups using the app to help you track redirect customers on your store via Google Analytics Dashboard directly.
1. Cozy Country Redirect Events in GA Dashboard
This functionality only works when the redirection type is set to "Ask for Confirmation"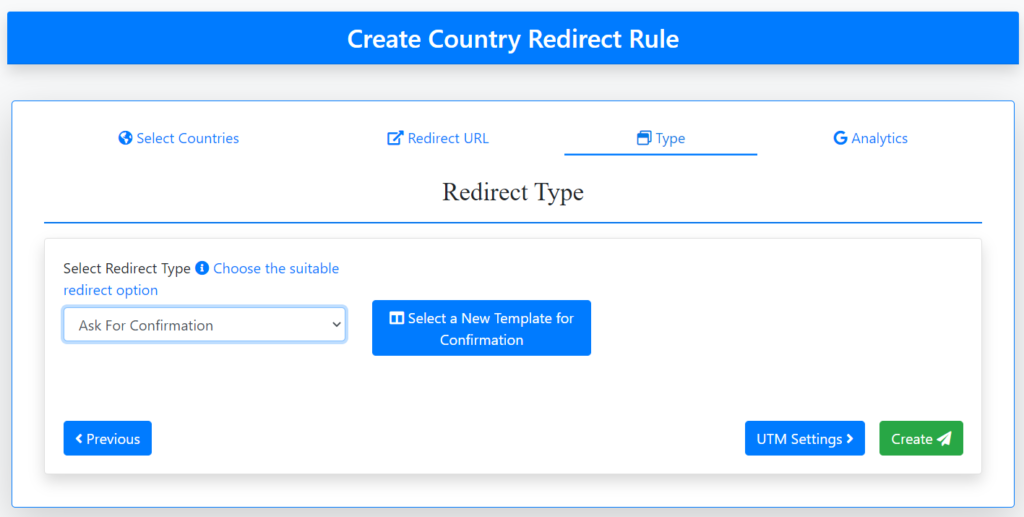 The Popup/Bar that you will set in "Ask for Confirmation" Type of redirection is designed with a basic principle of two buttons which are "Redirect Button" and "Cancel Button".
Redirect button will redirect the customer to the correct store while the Cancel Button will let them stay on the current store.
Based on what choice the customer makes our app fires up events in Google Analytics as shown in the table below:
| | | |
| --- | --- | --- |
| | Redirecting (Redirect Button) | Staying (Cancel Button) |
| Event Category | CozyCountryRedirect | CozyCountryRedirect |
| Event Action | Redirecting | Staying |
| Event Label | Matched URL | Matched URL |
Here's a screenshot showing how the events will show up in your Google Analytics Dashboard: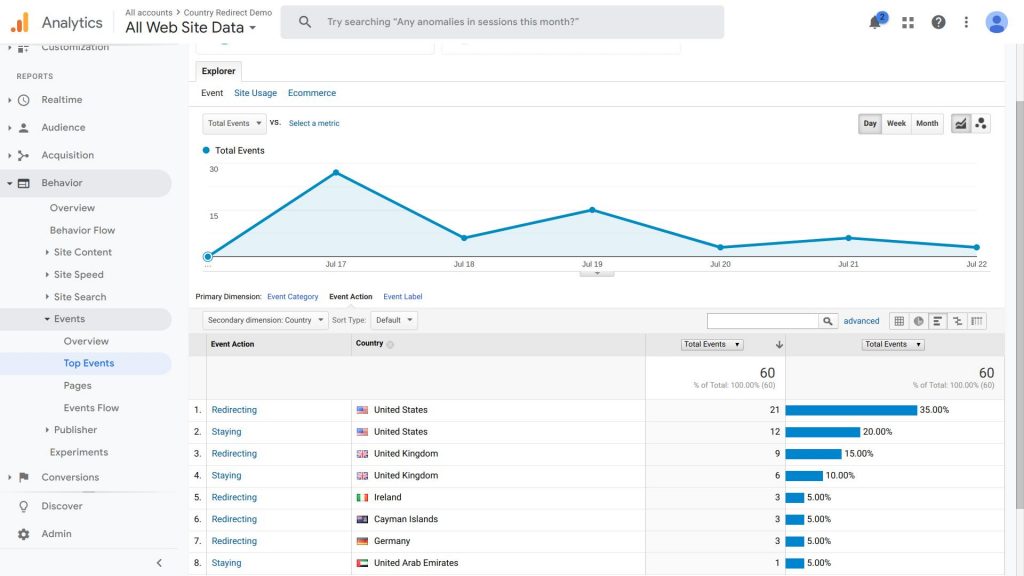 Note: This does not work in case the Redirect Type is set to "Auto-Redirect" because Auto-Redirect is extremely fast and the store is changed even before Google Analytics loads up.
2. UTM Parameters
This functionality works for both types of Redirection: Auto-Redirect as well as Ask for Confirmation. But unlike the events functionality, this tracks visitors on the destination store after redirection.
The app allows you to set up UTM Parameters while setting up redirection in a dedicated "G Analytics" Tab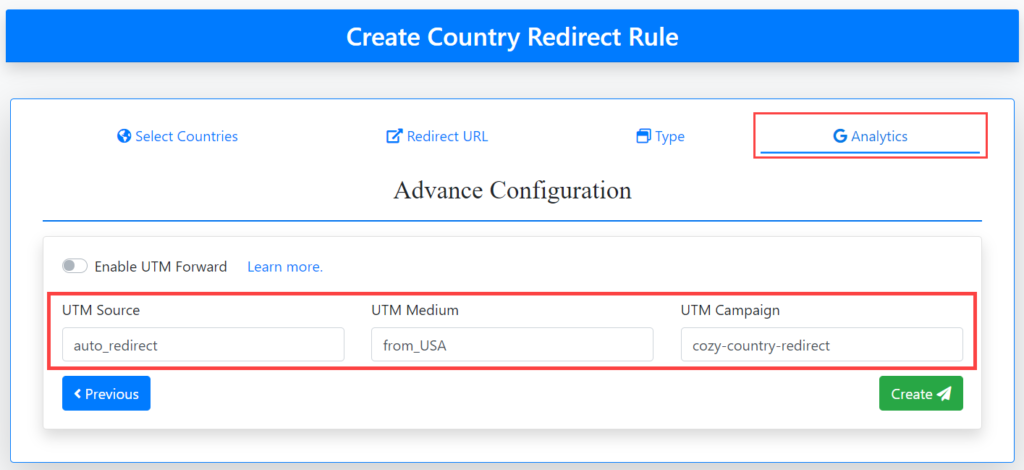 Let us take an example for more clarity:
You are setting up redirection on your USA Store (store-usa.myshopify.com) to redirect Canadian customers to Canada Store (store-ca.myshopify.com). The UTM Parameters are added as shown in the above image and the redirection is set.
Now when a Canadian customer will visit store-usa.myshopify.com they will be redirected to the Canada Store. But since you have also added UTM Parameters, the new URL after redirection will be:
store-ca.myshopify.com/?utm_source=auto_redirect&utm_medium=from_USA&utm_campaign=cozy-country-redirect
Based on the appended parameters you can view the Source/Medium and Campaigns in the Google Analytics Dashboard of the destination store (Canada Store).
That concludes our article on the Google Analytics Features offered by our Cozy Country Redirect App. If you have any doubts regarding the app you can always reach out to us at support@addons.business.